Location:
Series LFAFBV-FP Full-port Slow-close Ball Valve
Series LFAFBV-FP Full-port Slow-close Ball Valve
Advancing Technology for Fire Protection
Gear-operated Ball Valve
Promotional Flyer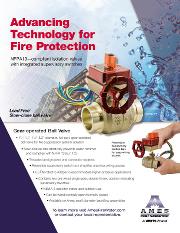 File: PF-A-LFAFBV.pdf
File Size: 506 kb
Series LFAFBV Downloads
The LFAFBV-FP lead free* gear-operated ball valve is an NFPA 13-compliant isolation valve with integrated supervisory switches. Can be wired as Normally Open or Normally Closed.
Features
1", 1 ¼", 1 ½", and 2"diameter, full-port, gear-operated ball valve for fire-suppression system isolation
Slow closure rate effectively prevents water hammer and complies with NFPA 13 (6.7.1.2)
Threaded and grooved end connection options
Reversible supervisory switch box simplifies electrical wiring access
UL/FM rated to 400 psi to accommodate higher-pressure applications
Contains two pre-wired single-pole, double-throw, position-indicating supervisory switches
NEMA 4-rated for indoor and outdoor use
Click here for more information and detailed specifications »
*The wetted surface of this product contacted by consumable water contains less than 0.25% of lead by weight.